The FIFA World Cup is coming to Houston in the summer of 2026. Six matches will be played at NRG Stadium. Experts predict it will be the equivalent of hosting six Super Bowls, all in one month. What's more, it will be the first World Cup to have 48 teams instead of the current 32- team format. More teams = more matches = more spectators. When big events like this come to town, demand for short-term rentals soars. Meet HomeDome, a new program from RISE Association Management Group. It's the high-tech tool Houston HOA management needs to fight short-term and vacation rentals.
Impacts of short-term and vacation rentals
Short-term rentals in Houston are subject to specific laws and regulations. These address issues like registration requirements, liability insurance, zoning regulations, and noise/nuisance ordinances. Despite these safeguards, many HOAs and condo boards do not want short-term and vacation rentals, and for good reason. Inviting a highly transient population into an established community comes with a host of problems:
Safety/security – unknown guests, with a lack of oversight, may be engaged in illegal or unsafe activities, putting the whole community at risk.
Parking/traffic – more guests mean more traffic and unfamiliarity with parking limits and restrictions.
Noise – transient visitors may be less respectful of community rules, leading to increased noise and disruption.
Resource strain – renters can put more demand on resources like water, electricity, and waste management, impacting the overall functionality of the community.
Value depreciation – a proliferation of short-term rentals and rental hosts who are not as accountable as homeowners to property maintenance and cleanliness lowers the appearance of the whole community.
Increased cost of insurance – higher rates of non-owner occupied homes can substantially increase the cost or availability of HOA insurance. Many carriers limit exposures to those with less than 15% non-owner occupancy.
Sense of community – with people always coming and going, it's impossible to develop relationships and connections.
Liability – if renters damage either homeowner property or community property, the homeowner and HOA are left to pay for repairs.
HOA Short-term Rental Restrictions – Yes, Your Community Association CAN do it!
The sharing economy is here to stay. We at RISE know some HOA and condo association management companies embrace the short-term and vacation rental concept. It's a compelling idea – the extra revenue property owners can generate, and the flexibility it gives homeowners who don't live in their property year-round. But based on our long history working in Houston community management and condo association management, we believe the negatives outweigh the positives. This is why RISE developed HomeDome.
HomeDome is the first short-term rental protection program tailored to HOAs and condo boards. RISE developed this program to give our clients the peace of mind they need about their communities' safety and long-term value.
HomeDome uses AI to continuously monitor 70+ online rental sites. The geofencing functionality of HomeDome uses GPS to create a digital fence around a specific area. RISE monitors all online activity occurring within the fenced area to determine if anything violates the HOA or condo board rules. RISE on-site property managers are the eyes and ears to inspect and verify any activity not in line with community regulations.
The powerful combination of our proprietary technology combined with real-time visual inspections by dedicated RISE property managers is like having a 24/7/365 doorman barring entry to unwanted guests. See how it works.
The best part? HomeDome is a standard component of the RISE condo board and HOA management platform!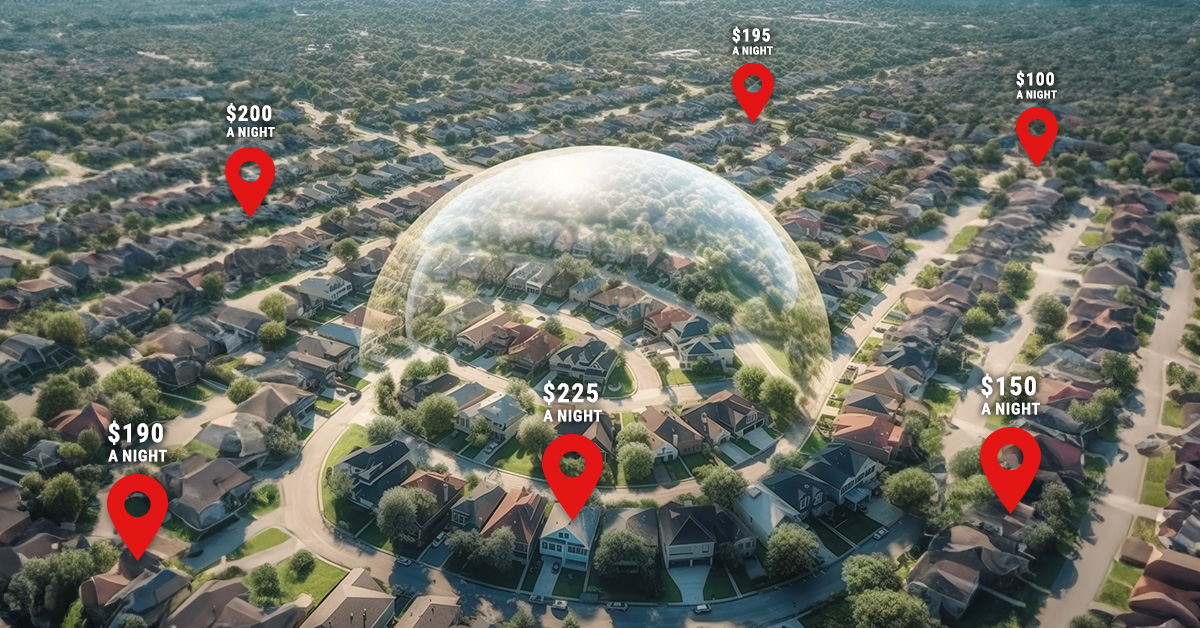 RISE Puts the COMMUNITY in Houston Community Management Services
Together we RISE. Yes, it's part of our name. But more importantly, it is our operating vision. RISE is a people business first – it is the clients we serve, the communities we manage, and our employees. HomeDome was born out of this philosophy.
The proliferation of the sharing economy has made property investors winners while slowly killing communities. Short-term rentals rob communities of that sense of belonging residents want, and they degrade property value. RISE is actively working with our communities through the HomeDome program to maintain safety, quality, and value standards. Contact us at letsrise@riseamg.com or 713-936-9200 to learn more